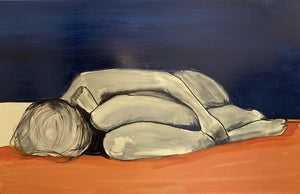 Style and composition are at the heart of Marita Bardakjian's artworks. Intuitive in her art, her forms are iconographic and designed to evoke emotion.
Title: "Downhearted"
Artist: Marita Bardakjian
Medium: oil on canvas
Dimensions: 24" x 35" inches

Authenticity certificate signed by artist.
Worldwide shipping.

The DOWNHEARTED / By Marita Bardakjian is the product you didn't think you need, but once you have it, something you won't want to live without.