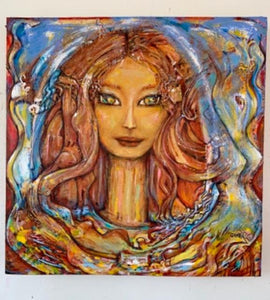 Summer is a delightful painting by Toronto artist David Goveia.
Lighthearted and stunning, David tells us it began as Whitney Houston in 2008, but it developed into something entirely different. Well, that's what artists do, they imagine, create and imagine some more until they find their voice through their personal medium, be it paint, ink gouache or watercolor.
Title: Summer
Artist: David Goveia
Medium: Acrylic & Ink
Dimensions: 30" x 30" x 3" 
Authenticity certificate signed by artist
Worldwide shipping is possible
On the fence about this SUMMER / By David Goveia? Don't be. Let our satisfaction guarantee address your concerns.