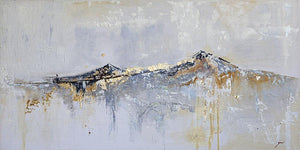 Morning has broken. The very first glimpse of sunlight is always exciting.
Bonus: Framed and ready to hang
Medium: Mixed media / Oil on canvas / Gold Leaf / Metallic Leaf
Dimensions: 18" x 36" x 1.5"
Authenticity certificate signed by artist
Painting can be shipped without frame, in protective shipping tube.
Worldwide shipping is possible 
Life is too short to live without the DAYBREAK Original Canvas Painting / By Zari Kazandjian. Be happy. Be Content. Be Satisfied.