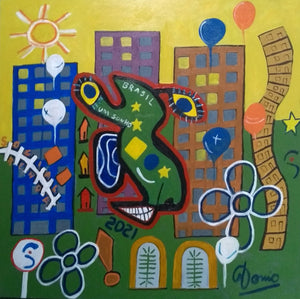 Antonio Souza's distinctive visual style is conceptually complex. He elevates his thoughts through his deep sense of being Brazilian. 

Artist: Antonio Souza
Medium: Acrylic on panel
Dimensions: 35.4" x 35.4" x 1.5" (90cm X 90cm X 4cm)
Certificate of authenticity
Artwork will be shipped from artist's studio in Brazil
The BRAZIL -- Original Painting / By Antonio Souza is the product you didn't think you need, but once you have it, something you won't want to live without.