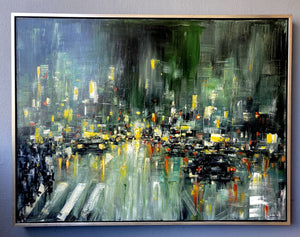 A night sky aglow with bright city lights, yellow taxicabs jutting in and out of traffic while monoliths of concrete soar out of the sidewalk.
Artist: Moses Salihou
Medium: Oil-on-canvas 
Dimensions: 36" x 48"
Bonus: Framed and ready to hang
Authenticity certificate signed by artist / Worldwide shipping is possible
The CITY BY NIGHT / Original Canvas Painting / By Moses Salihou is the yin, to your yang. You've found what you're looking for.