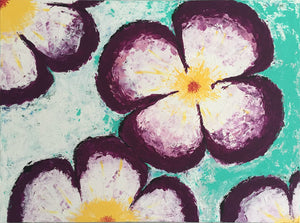 Anémone, French for the Windflower. According to myth, the anemone sprang from Aphrodite's tears as she mourned the death of Adonis.  Artist Andy Habib captures the romantic notion of the myth in this figurative abstract. 
BONUS:  Ready to hang, 
TITLE: Fleur d'Anémone
Artist: Andy Habib
Medium: Acrylic on canvas
Size: 40" x 30" x 1.2"
Certificate of authenticity signed by artist

Worldwide Shipping
The FLEUR D'ANEMONE / Original Canvas Painting - By Andy Habib is a sensational customer favorite, and we hope you like it just as much.