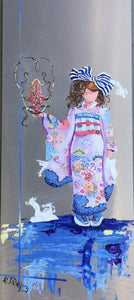 A self-taught artist, Quebecois artist, Pauline Paquin creates unique stories with her original mixed media paintings that speak to a magical reality and whimsical imagination.
Vivid, happy colors depict a special moment in time and Pauline has created a unique painting, marrying traditional painting techniques with a modern material like slick aluminum.
Artist: Pauline T. Paquin
Medium: Acrylic on aluminum
Dimensions: 10" x 24"
YEAR: 2019
Authenticity certificate signed by artist
Worldwide shipping possible
The KIMONO 1 / Original Painting On Aluminum - By Pauline Paquin is evocative, to say the least, but that's why you're drawn to it in the first place.