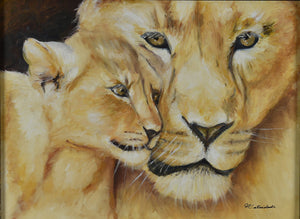 A lioness symbolizes fertility and birth. Her roar is a call to action, a symbol of success, prosperity and wealth and a lioness protects her cubs at all costs!
In this painting, she is seen snuggling with her cub. Together they are playful, in fact, cubs will play with anything that arouses their attention, even their mother's tail. 
Natty Pacheco has captured the love between a mother and her cub with this oil on canvas painting featuring gradient colours that are seamlessly blended for a harmonious feeling.
Bonus: Framed and ready to hang, 
Artist: Natty Pacheco
Medium: Oil on canvas
Dimensions: 15.5" x 11.5" ( 22.5" x 18.5" framed)
Authenticity certificate signed by artist

The LIONESS & CUB / Original Canvas Painting - By Natty Pacheco is far and away, one of our most popular items. People can't seem to get enough of it.