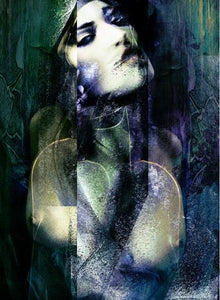 Blending fashion, art and photography, Arline Malakian is a fine art photographer passionate about creating images that convey female beauty.
A digital manipulation and process, taking upwards of 45 hours  and more for each image. The artist has not borrowed or painted nor illustrated, no collages from other sources. Every layer is an integral part of the one photograph that has expanded into the image we see.
The visuals you view are a rendering from within the images as captured, warped and worked until an impression of the moment is captured by the artist and her imagination
Artist: Arline Malakian
Medium: Photography / metallic print photopaper fused on plexi

Dimensions: 36" x 25
This is a LIMITED EDITION / Signed, numbered and limited to 5 
Certificate of authenticity signed by artist
North American shipping
Imagine if you could be satisfied and content with your purchase. That can very much be your reality with the LOUNGE / Original Fine Art Photography - Impressions Collection by Arline Malakian.