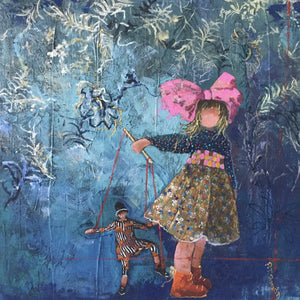 A beautiful little girl sporting a large pink bow looks at us while she holds her perfect companion, a harlequin marionette.
Canadian/Quebecois Artist, Pauline T. Paquin has developed a unique style that is best described as 'fresh' and joyful. Radiating with energy and the playfulness of childhood, Pauline's figurative art showcases an undeniable flair for a happy color palette, that translates into magical moments on canvas.

Artist: Pauline T. Paquin
Medium: Acrylic on canvas - Gallery  wrapped canvas
Dimensions: 24" x 24"
YEAR: 2019
Authenticity certificate signed by artist
Worldwide Shipping
On the fence about this MON AMI POLICHINELLE / Original Canvas painting - By Pauline Paquin? Don't be. Let our satisfaction guarantee address your concerns.