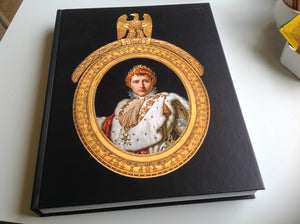 A dazzling book capturing the splendors of the court of Napoleon I (1769–1821) reflecting the grandeur and ambitions of the greatest empire of the day. 
This luxurious volume illustrates the ambiance and the spirit that prevailed in the French court during the Empire through the material manifestations of the Imperial Household. 
Featured here are more than 250 works of fine and decorative art, the visual magnificence of which was part of a calculated and deliberate effort to fashion a monarchic identity for the new emperor.
Title: Napoléon: The Imperial Household
Author: Collective
Themes: Art, History
Format: Hardcover
Pages: 352
The NAPOLEON: The Imperial Household - Coffee Table Book is the product you didn't think you need, but once you have it, something you won't want to live without.