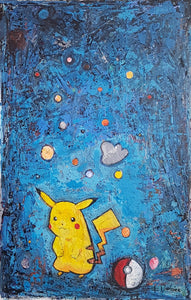 "I CHOOSE YOU," a dynamic catchphrase that belongs to Pikachu.
A childhood favorite, this painting is a representation of a Pikachu thinking while standing next to his pokeball. A dark blue sky with small specks of color, puts Pikachu in his digital blue world, making yellow shine in this fun universe.
The artist uses a methodical dripping technique along with a spatula and brushes.
Title: Pikachu
Artist: Eric Deshaies
Medium: Acrylic base matt & shiny combined with aqua-dispersions pigment.
Dimensions: 24 " x   36 " x  1 1/2 "  

Authenticity Certificate signed by artist
The PIKACHU Original Painting / By Eric Deshaies is the product you didn't think you need, but once you have it, something you won't want to live without.