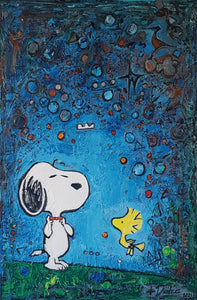 SNOOPY & WOODSTOCK: Friends for life. Artist Eric Deshaies depicts a child-hood favorite, Snoopy has put on a bow tie  and is ready for a fun evening with his friend Woodstock
Did you know Snoopy was inspired by creator, Charles Shultz's dog, Spike. and although Woodstock came to be in the comic strip in 1967, he was only named in 1970 following the famous music festival. 
Get your Snoopy on!  The background is very textured with the colors of blue and green, several circles & triangles in the distance and there's even a a funny-looking cloud.  Orange and red dots complete a vivid blue sky alongside bright green grass.  These friends have a complicity that we can see it through the eyes of the artist. 
Title: Snoopy & Woodstock
Artist: Eric Deshaies 
Medium:  Acrylic base, matt & shiny combined with aqua-dispersions pigment.
Dimensions:   24 " x   36 " x  1 1/2 "
Authenticity Certificate signed by artist
Worldwide shipping is possible 









Life is too short to live without the SNOOPY & WOODSTOCK Original art / By Eric Deshaies. Be happy. Be Content. Be Satisfied.