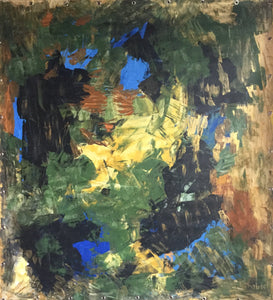 "Survol" - From the spectacular SHANGHAI abstract collection, this painting is a mass of broad strokes with the authentic colors found in the sea, on the earth and up in the sky.  Artist Auclair Langlois, created an image, as if seen from a satellite high above in the atmosphere. "I've tried to capture the power found in mother nature--with her incredible ability to grow, to build, to destroy, to renew, recreate and inspire."
The artist has added metal grommets to the finished raw canvas for ease of hanging. 
Artist:  Auclair Langlois

Medium: Oil-on-canvas - metal grommets for hanging
Category: Abstract
Dimensions: 5'5"x 6" - 160cm x180cm
Authenticity certificate signed by artist

The SURVOL / OVERVIEW SHANGHAI COLLECTION / Original Canvas Painting - by Auclair Langlois is evocative, to say the least, but that's why you're drawn to it in the first place.