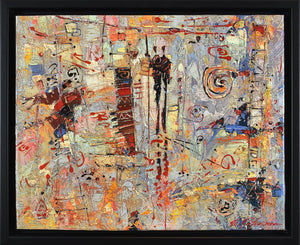 A young couple, did they just meet or have they been together for a long time? Are they planning an elopement? A wedding? Are they simply walking down the boulevard arm-in-arm? The beauty of this abstract comes to life through your eyes.
Created by listed Armenian artist, Movses Petrosyan, this acrylic-on canvas will accent your walls in a thoughtful and sophisticated manner.
BONUS: Framed in black lacquer wood frame, FREE SHIPPING IN NORTH AMERICA
Artist: Movses Petrosyan
Medium: Acrylic-on-canvas
Dimensions: 19.25" x15.5" plus frame
Category: Abstract
Imagine if you could be satisfied and content with your purchase. That can very much be your reality with the The Couple - By Movses Petrosyan.