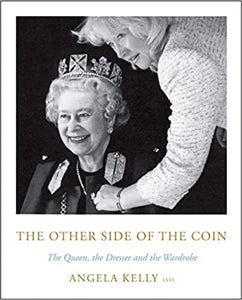 FULLY ENDORSED BY QUEEN ELIZABETH II --  An official book from Her Majesty's trusted confidant and Dresser Angela Kelly LVO. A lavishly designed book of never-before-seen photos of The Queen, Her wardrobe and Her jewels and features intimate anecdotes from Angela's 25-year career working closely with Her Majesty. A truly unique keepsake and collectors' item to be treasured.  
In 
The Other Side of the Coin
, The Queen has personally given Angela her blessing to share their extraordinary bond with the world. Whether it's preparing for a formal occasion or brightening Her Majesty's day with a playful joke, Angela's priority is to serve and support. Sharing never-before-seen photographs – many from Angela's own private collection – and charming anecdotes of their time spent together, this revealing book provides memorable insights into what it's like to work closely with The Queen, to curate her wardrobe and to discover a true and lasting connection along the way.
Dimensions: 18.73 x 2.49 x 23.02 cm
The THE OTHER SIDE OF THE COIN: The Queen, the Dresser and the Wardrobe / CoffeeTable Book is far and away, one of our most popular items. People can't seem to get enough of it.