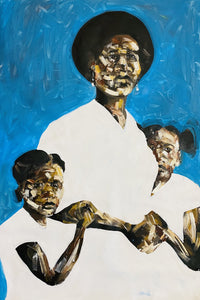 Unconditional Love, a love that we all wish for, a love that comforts and coddles us. It's a love that has no bounds, no conditions and only complete and unselfish love. 
Bonus: Ready To Hang
Title: UNCONDITIONAL LOVE 
Artist: Moses Salihou
Medium: Oil on canvas 
Dimensions: 28"  x 40"  
Certificate of authenticity
Worldwide Shipping
The UNCONDITIONAL LOVE Original painting / By Moses Salihou is evocative, to say the least, but that's why you're drawn to it in the first place.