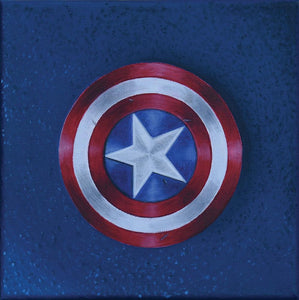 A superhero created in 1941, Captain America, carries a shield that prevents him from harm. With this work, Canadian artist, Andy Habib, pays homage to the character of Captain America and his circular shield of protection.
BONUS: Ready to hang

Artist: Andy Habib
Medium: Acrylic on gallery wrapped canvas
Size: 8" x 8"
Year: 2018
Certificate of authenticity signed by artist

The CAPTAIN AMERICA / Original superhero art - By Andy Habib is the yin, to your yang. You've found what you're looking for.