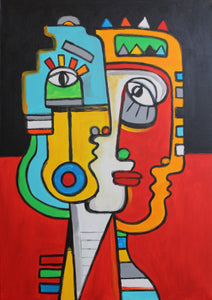 We're so pleased to introduce, exclusive to KIKI STERLING GALLERY, FRIENDS  collection titled FACES by Spanish/Armenian artist, Arman Alaverdyan.
These FRIENDS represent the multitude of FACES we see in everyone. 
BONUS: Ready To hang
Title: Friends 2

Artist: Arman Alaverdyan
Medium: Acrylic on canvas - 
Dimension: 19" x 27.5" (50 x 70 cm)
Artwork will be shipped directly from Spain ( possibly in protective shipping tube)

The FRIENDS 2 / Original Canvas Painting EXCLUSIVE TO KIKI STERLING GALLERY - By Arman Alaverdyan is the yin, to your yang. You've found what you're looking for.