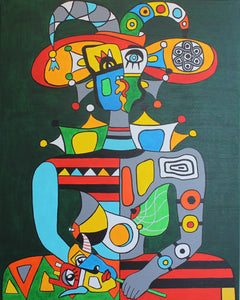 Colourful and stylized, my figures depict the women in all their finery at the "Carnivale di Venetzia" undoubtedly, the most famous carnival in the world. 
Title: Girl from Venice 2
Artist: Arman Alaverdyan
Medium: Acrylic on canvas 
Dimensions: 27.5" x 31.8" (65 x 81 cm)
Authenticity certificate signed by artist
Artwork will ship to collector directly from artist's studio in Spain
Life is too short to live without the GIRL FROM VENICE 2 / Original canvas painting - By Arman Alaverdyan. Be happy. Be Content. Be Satisfied.