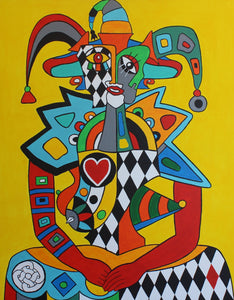 The magic of carnival gives Venice an enchanted atmosphere of danger, mystery and hidden identities.
Inspired by the Carnival, I created the female harlequins as an interesting psychological depiction using the cover of anonymity in pursuing love,  decadence and revelry.
Ready To Hang
"Title: Girl from Venice 3
Artist: Arman Alaverdyan
Medium: Acrylic on canvas 
Dimensions: 27.5" x 31.8" (65 x 81 cm)

Authenticity certificate signed by the artist
Artwork will be shipped to collector directly from artist's studio in Spain
Worldwide Shipping
The Girl From Venice 3 / Original canvas painting - By Arman Alaverdyan destined to impress, and priced at only $1,100.00, for a limited time.