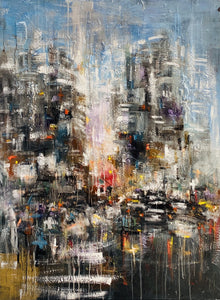 A vibrant city is all about the energy emanating from the city sidewalks, the towering skyscrapers, the cacophony of the traffic and the rush of the people. Artist Moses Salihou captures the energy and spirit of a major metropolis with this large and powerful painting.
Artist: Moses Salihou
Medium: Mixed media on canvas - gallery wrapped canvas
Dimensions: 48" x 36"
Large painting / ready to hang
Authenticity certificate signed by artist
Worldwide shipping
The JUST ABOUT THE ENERGY / Original canvas painting - By Moses Salihou is evocative, to say the least, but that's why you're drawn to it in the first place.