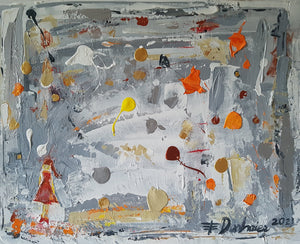 Abstract and its ability to channel emotional states is something that artist Eric Deshaies is really good at.  His paintings are joyous expressions of color and mood that are both soulful and uplifting.
Lady in Abstract is an acrylic on canvas showcasing his innate talent with color,  compostion  and a pervasive energy.
Medium: Acrylic on canvas
Dimensions: 20" x 16" x 1/2"
Comes with authenticity certificate signed by artist
On the fence about this LADY IN ABSTRACT Original painting / By Eric Deshaies? Don't be. Let our satisfaction guarantee address your concerns.