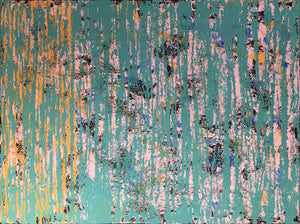 This mixed media piece is a subtle marriage of mediums. Artist Andy Habib has merged raffia, acrylic and canvas to speak to each other, softly and harmoniously, coming together in a unified voice. The unity of the finished piece is the ultimate goal of the artist.
BONUS: Framed in lustrous black, Ready to hang,
Ask us about reduced shipping

Artist: Andy Habib
Medium: Mixed media - acrylic and raffia on canvas
Size: 18" X 24" - plus frame

Certificate of authenticity signed by the artist

The LET'S SPEAK / Original Mixed Media Painting on Canvas - By Andy Habib destined to impress, and priced at only $380.00, for a limited time.