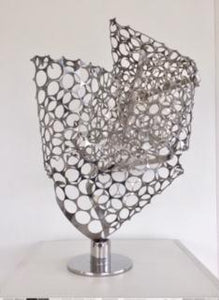 "The sculpture is intended as a futuristic symbol of a map, developed  from a 3-D  visualization of object in their space. Perforated stainless steel mesh, randomly kneaded manually, I've welded it to a solid steel base."
Artist: Luiz Campoy
Medium: Stainless steel
Dimensions: 30 x 40 x 50cm
Genre: Sculpture
Year: 2019
Worldwide shipping
Artwork will be shipped to collector directly from artist's studio in Brazil
On the fence about this MAP / Original Stainless Steel Sculpture - By Luiz Campoy? Don't be. Let our satisfaction guarantee address your concerns.