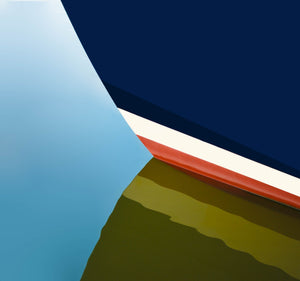 American photographer, Craig McAllister travels all of the world.
"I had taken photos of boats in water before, but when I took this shot in Naples, Florida, I realized that I was truly onto something. It had everything I was looking for in my photography - color, reflection and unlimited subject matter. I couldn't believe that I had actually created this composition."
Artist: Craig McAllister
Medium: Photography
Category:  Abstract Marine Photography
Signed & Numbered / Certificate of authenticity
Dimensions: available as a 20" x 20" print priced at $500. 
It is available as a 30" x 30" print priced at $1000.
Each image is printed on Hahnemuhle Photo Rag Ultra Smooth paper – a natural white, 100% cotton paper – which guarantees archival standards. With its premium pearl inkjet coating Photo Rag Ultra Smooth paper meets the highest industry standards regarding density, color gamut, color graduation and image sharpness while preserving the special touch and feel of genuine art paper. 

This print is shipped safely in a durable shipping tube. It is recommended that you keep your print in this shipping tube until given to your local framer, and we suggest minimal handling to prevent the possibility of the art getting creased or damaged.
Imagine if you could be satisfied and content with your purchase. That can very much be your reality with the NAPLES / Original Boat Photography - By Craig McAllister.