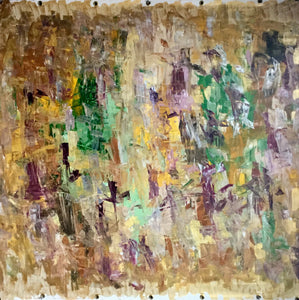 "Papyrus" is a joyful construct of light and mood created by artist Auclair Langlois. With its predominantly delicate and pale colors, juxtaposed with dark slashes of deeper shades, this painting is reminiscent of random ancient hieroglyphics, daring the viewer to explore their mysterious intent."
The artist has added metal grommets to the finished raw canvas for ease of hanging. 
Artist:  Auclair Langlois
Medium: Oil-on-canvas, metal grommets for ease of hanging 

Dimensions: 5'3" x 5'4" -  (160cm x 165cm )

Signed Certificate of authenticity by artist
Worldwide Shipping
The PAPYRUS / SHANGHAI COLLECTION / Original Canvas Painting - By Auclair Langlois is evocative, to say the least, but that's why you're drawn to it in the first place.