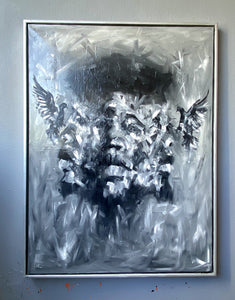 PAST, PRESENT, FUTURE is a contemporary artwork by Canadian artist Moses Salihou.
Reading like visual poetry, Moses' works are subjective & limitless in their interpretation.  His inspiration and creativity are sourced from his surroundings, the environment and his imagination.  Moses' creative process is guided by a desire to establish dialogue through his work without setting any limits.
As a versatile artist, Moses uses various supports (canvas, paper, reclaimed materials) and mediums (oil, acrylic, watercolor, pigment and charcoal).  Originally from Cameroon, Moses now calls Toronto home. His artwork is proudly featured in private collections in Canada and abroad.

Artist: Moses Salihou
Medium: Oil on gallery wrapped canvas
Dimensions: 48" x 36"
Authenticity certificate signed by artist / Worldwide Shipping
Life is too short to live without the PAST.PRESENT.FUTURE / Original Canvas Painting - by Moses Salihou. Be happy. Be Content. Be Satisfied.