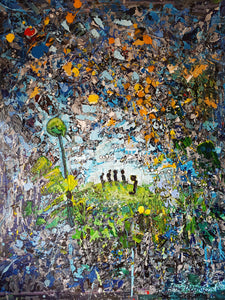 Soldiers in the Ranks by Canadian artist Eric Deshaies is an enigmatic work. The soldiers are lined up in a clearing. People are hiding in the background and the sky is fractured, filled with splats of color.
Eric's works are both whimsical and sophisticated and distinguished by an elegant yet playful use of color. Acrylic-based with components of matte and glossy combined with aqua dispersions pigment. This artist works with a spatula and paintbrushes, then throws paint in quick succession from a variety of angles, creating various organic forms and shapes.
BONUS: Framed and ready to hang
Medium: Acrylic on gallery wrapped canvas
Dimensions: 30" x 36" x 21/4"
Frame: Black pine wood made by the artist. A rustic barn-wood look is created with a diluted, black tinted pigment, followed by gentle sanding for a vintage/antique effect.
Can be shipped with frame or canvas only in protective tube.
Worldwide shipping
The SOLDIERS IN THE RANKS - Soldats Dans Les Rangs / Original Painting By Eric Deshaies is a sensational customer favorite, and we hope you like it just as much.