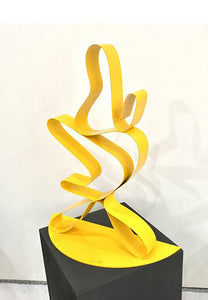 A fluid sculpture that reminds us of a ribbon floating, moving through the air.
Sculptor, Luiz Campoy, created this stainless steel sculpture by hand-welding stainless steel strips that flow and come to rest on a half moon solid steel base.
Luiz uses a powder epoxy paint in bright yellow, underscoring the vibrant nature of the sculpture. 
Beautiful as a statement piece on a dining table or even a side table.
Title: Tortuosa
Artist: Luiz campoy
Material: Stainless steel
Dimensions of curved base: 7 x 7 x 2cm
Height: 60cm / 23.6" x  Width 30cm / 11.8"  x Depth 6.5cm /2.55"
Worldwide Shipping is possible

Authenticity certificate signed by artist
The TORTUOSA - Original Sculpture Stainless Steel By Luiz Campoy is the yin, to your yang. You've found what you're looking for.