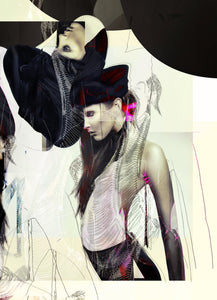 TREFLE from the DAMES DE JEUX Series

Dames de Jeux is a series of iconography that pictures the timeless mystery of  playing cards in a playful esthetic.

Synthetizing digital photography with symbolism, the DAMES (queens), of a popular deck of cards are represented here in an ironic and whimsical manner.

Illusionary and surreal, the DAMES seem to represent the different stages in life we all experience in our unique way; thus our own interpretation of the visual overlay of shapes and patterns.

The mirrored faces play with our perception of a reality – the original
photograph that is deconstructed and rearranged - and subliminally connect us to the archetypal symbolism of magic and the mystic of reading into the future.

Each tableau is a double layering game, based on a single image, of shapes and colours with subconscious associations and a visual play of reflection and refraction.


Artist: Arline Malakian
Medium: Abstract photography / metallic print photo-paper fused on plexiglass

Dimensions: 40" x 30"

Available also in:  20" x 15" for $1200. 
This is a LIMITED EDITION / Signed, numbered and limited to 5 
Certificate of authenticity signed by artist
North American shipping
Imagine if you could be satisfied and content with your purchase. That can very much be your reality with the TREFLE - Queen of Clubs / Original Photography By Arline Malakian.